Sacred Heart & St Teresa's Church Wilmslow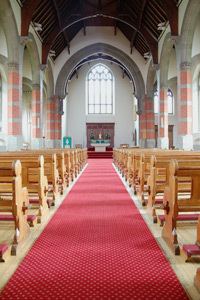 Welcome
IMPORTANT: Coronavirus (COVID-19) :
Parish Updates
https://www.facebook.com/StTeresasWilmslow
December 2020 Update
Public Mass will resume in church from Wednesday 2nd December at 10.30 am (with 1 metre social distancing and mandatory face coverings), with the Thursday Mass & Weekend Masses following on as usual (as was the case before the recent national lockdown – please see below for Mass times). Cheshire East will come out of national lockdown and enter Tier 2 restrictions from Wednesday 2nd December. These restrictions mean you can only interact indoors with your own households, but outdoors you can interact in groups of up to 6. For all the latest updates and guidance, please refer to our latest newsletter (available above) or please visit our Facebook page at www.facebook.com/StTeresasWilmslow (you do not need to have a Facebook account to view this page).
Mass times from Wednesday 2nd December 2020:
Wednesday 10.30 am
Thursday 10.30 am
Saturday Vigil Mass 6.30 pm
Sunday Mass at 9.00 am
Sunday Mass at 10.30 am
November 2020 Update
Please note that from Thursday 5th November 2020, there will be no public Mass celebrated in church until the new restrictions are lifted. However, the church will again be available for private prayer on the days & times listed below. The church will also be reverting back to 2 metre social distancing, with a limit of no more than 10 people in church at a time, and with a time limit of 15 minutes in church for each worshipper. All worshippers must continue to wear face coverings & adhere to the strict rules in church at this time, including sanitising hands on entering & leaving. Please do not enter church if you are symptomatic.
Until further notice, the church will be open for private prayer on the following days & times:
Wednesdays from 10 am – 12 pm
Sundays from 10 am – 12 pm
October 2020;
Our weekly newsletters, which contain the latest guidance, mass times & parish updates, are now back up and running - please find the latest one on the "Newsletters" tab above. Further to the previous August 2020 update, there will now be an additional weekday Mass every Thursday. So there are now 5 Masses in church per week as follows:
Wednesday 10.30 am
Thursday 10.30 am
Saturday Vigil Mass 6.30 pm
Sunday Mass at 9.00 am
Sunday Mass at 10.30 am
August 2020:
Further to the July 2020 update below, the 9 am Sunday Mass will be restored from Sunday 9th August 2020. So from this point forward, there will be 4 Masses in church per week as follows:
Wednesday 10.30 am
Saturday Vigil Mass 6.30 pm
Sunday Mass at 9.00 am
Sunday Mass at 10.30 am
The safe capacity range of the church, depending on the different household mix, has increased to 47 - 79. We are also still grateful for more volunteers to help steward and clean the church to help share the burden, and it's also a good opportunity to get to know other parishioners. If you can help at Masses on Wednesdays, Saturdays and Sundays, please telephone or email the parish with your availability at sacredwil@gmail.com. Thank you
July 2020:
The Return of Mass in Church
We are pleased to confirm that we have been given Diocesan approval to celebrate Mass publicly in Church from Wednesday 22nd July 2020 at 1 metre plus social distancing with the condition that all parishioners wear face masks in church and that the church is cleaned after each Mass. Whilst the church has a supply of masks at the moment, to keep church expenditure low, you can help us by providing your own mask.
There will currently be 3 Masses per week in church as follows:
Wednesday at 10.30 am
Saturday Vigil Mass at 6.30 pm
Sunday at 10.30 am
As per the previous guidance for private prayer and the outdoor Masses, please use hand sanitiser, wear face masks and record your details for track and trace at the entrance. Please also keep to at least 1 metre social distancing. The church one way system remains in place as with the previous private prayer sessions. The designated seating on each pew is clearly signed. Stewards will be available to help seat you appropriately and safely. When receiving communion at the end of Mass, please walk down the centre aisle within the centre lines marked, and leave immediately down the left aisle to leave.
The new safe capacity of the church ranges from 43 (assuming all parishioners are from a different household) to 73 (assuming all parishioners in groups of 4 can sit together from the same household (max 3 on the front, shorter pew).
As the number of available pews in church has now increased at 1 metre plus social distancing, and as the number of Masses gradually increases, we would be most grateful for more volunteers to help steward and clean the church. Please email the parish at sacredwil@gmail.com with your details and times of availability if you can help.
Facebook Page
For regular updates, please visit our Facebook page (you do not need to have an account to view this page)
Please visit https://www.facebook.com/StTeresasWilmslow
Online Giving to the Parish now available
As you will be aware, whilst the church is closed, we have not been able to take our usual offertory collections, which has resulted in a sizeable drop in our income.
For those Parishioners who normally give in the collection at Mass and wish to help the Parish at this time, an online donation page to allow you to donate to the Parish is now available via the link below.
Please be aware that a minimum donation of £5 is requested if giving in this way, and you have the option to make a regular monthly donation or a one-off donation.
We know that for some these are worrying times financially. Please only give what you can afford.
Thank you for your support.
You can also Gift Aid your donation to help the Parish further. If you want to Gift Aid your donation, please tick the box shown on the screen even if you have previously completed a Gift Aid Declaration form in favour of the Parish for regular giving made by Offertory Envelope or Standing Order.
(All donations made by Parishioners are acknowledged by an email from InvestMyCommunity. Please also be aware that donations appear on the bank/credit card statements of the donor with the narrative "Invest My School").
Online Parish Giving Page:
https://investmycommunity.com/not-logged-donator/page/sacredheart&stteresawilmslowdioceseofshrewsbury2178
Parish Updates March 2020
Please note that following the recent state of emergency announced by the government, the church will now be closed until further notice.
We must now make full use of the opportunities of live streaming and continue being united in prayer. As suggested by the Bishop, we might also recommend that in the daily physical exercise which allows many people to leave their homes, the devotional practice that our parishioners greet the Real Presence of Christ in the Tabernacle from outside of our churches as they pass with a prayer, an act of spiritual communion or a simple sign of the Cross.
Daily Mass will continue to be celebrated privately by Father Anthony Cogliolo in church.
Masses at the Cathedral & Wythenshawe may be viewed and streamed here: http://www.dioceseofshrewsbury.org/about-us/live-masses
Masses at St Albans, Macclesfield may also be viewed here:
http://www.stalbanmacc.org.uk/stalbanslivestream.html
If you wish to set up a Standing Order either permanently or in order to continue to make your regular Offertory giving to the Parish during the period when Mass is not being celebrated in public, please contact Father Anthony via the parish telephone number (01625-523-584).
A document detailing "Prayers during a time of flu & illness" may be found below.
Please also note the Food Link at Colshaw is urgently in need of food for poor & struggling families at this time. Your food donations would be most welcome – please leave outside the presbytery door and then ring the bell.
Please telephone or email for any other queries
With All Best Wishes & Prayers,
Father Anthony Cogliolo
Parish Priest
As parish priest of Sacred Heart and Saint Teresa Wilmslow, in the Diocese of Shrewsbury, I am delighted to welcome you to our parish website.
This website provides a guide to the church, its history, and information about present day celebrations.
Whether this is your first visit, or you regularly come to this site, I hope that we are able to provide the information that you are seeking.
Feel free to browse around this site. If you have comments or questions, or simply need more information and want to contact us, click on the contact button above.
Father Anthony Cogliolo
St Teresa´s Church
Green Lane, Wilmslow, Cheshire.
SK9 1LD
01625 523 584
email: sacredwil@gmail.com