Sacred Heart & St Teresa's Church Wilmslow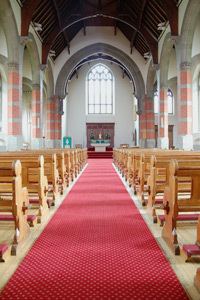 Welcome
The Parish processes any personal data it receives in accordance with the Diocesan Privacy Notice, which can be found here: http://www.dioceseofshrewsbury.org/aboutus/privacy-notice
Parish Priest
As parish priest of Sacred Heart and Saint Teresa Wilmslow, in the Diocese of Shrewsbury, I am delighted to welcome you to our parish website.
This website provides a guide to the church, its history, and information about present day celebrations.
Whether this is your first visit, or you regularly come to this site, I hope that we are able to provide the information that you are seeking.
Feel free to browse around this site. If you have comments or questions, or simply need more information and want to contact us, click on the contact button above.
Father Anthony Cogliolo
Coronavirus: July 2021 Update
Church Open Daily for Private Prayer
Mass times are detailed below
Please adhere to all social distancing rules detailed in church including sanitising your hands on entering & leaving and sitting in the highlighted socially distanced seating.
Please do not enter church if you are symptomatic.
Until further notice, Mass will be celebrated in church on the following days:
- Monday to Friday at 10.00 am
- Saturdays at 6.30 pm (Vigil Mass)
- Sundays at 9.00 am & 10.30 am
Please keep updated at www.stteresawilmslow.org & www.facebook.com/StTeresasWilmslow
Latest church rules:
Up to 30 people may now meet outdoors. Indoors, six people (or two households) can meet.
The limit for attendees at funerals is limited to the safe capacity of the church.
Social distancing continues in church so please ensure that you adhere to the social distancing & hygiene rules in place in church, as detailed below.
Rules & Guidance in church
• Church at one metre plus social distancing
• Please wear a face mask (unless you are exempt).
• Please do not enter church if you are symptomatic
• Please sign-in to church for the Track & Trace system or please scan the QR code with the NHS App.
• Please sanitise your hands on entering & leaving church.
• Visitors should not touch or physically venerate statues, relics, or the church stoop.
• Single use Mass sheets & Parish newsletters are provided and should either be kept or disposed of immediately at the end of each Mass in the bins provided in the porch.
• Maximum safe capacity of church if all worshippers are from a different household: 47 (Max 2 per pew each separated by 1 metre). Maximum safe capacity of church if worshippers from the same household can sit together (Max 4 to a pew, 3 on the front pews): 79
• Please follow the one-way system & guidance in church.
Extra Care at Holy Communion
• Holy Communion takes place at the very end of Mass
• Please remain in your seat until you are invited to go forward by a steward
• Receiving Holy Communion should take place in silence, i.e. the communicant should not say 'Amen.'
• Please unloop the face covering in order to receive Holy Communion & recover afterwards
• The communicant is advised to place their hands stretched out flat
• Following Holy Communion, please leave church promptly, not returning to your seat - those sitting on the left side pews/seats should leave by the left aisle/main front entrance door; those sitting on the right side pews/seats should leave by the right aisle/side entrance door
• Please apply sanitiser on leaving the church.
Online Parish Giving Page:
https://app.investmycommunity.com/sacred-heart-st-teresa-wilmslow-diocese-of-shrewsbury-1-2657
Please be aware that a minimum donation of £5 is requested if giving in this way, and you have the option to make a regular monthly donation or a one-off donation. We know that for some these are worrying times financially. Please only give what you can afford. Thank you for your support.
You can also Gift Aid your donation to help the Parish further. If you want to Gift Aid your donation, please tick the box shown on the screen even if you have previously completed a Gift Aid Declaration form in favour of the Parish for regular giving made by Offertory Envelope or Standing Order.
(All donations made by Parishioners are acknowledged by an email from InvestMyCommunity. Please also be aware that donations appear on the bank/credit card statements of the donor with the narrative "Invest My School").
Online Mass
We do not currently offer a Mass streaming service but Mass at Shrewsbury Cathedral may be viewed at the following link (Mass times are detailed via the schedule menu on this Diocesan web link):
http://www.dioceseofshrewsbury.org/about-us/live-masses
St Teresa´s Church
Green Lane, Wilmslow, Cheshire.
SK9 1LD
01625 523 584
email: sacredwil@gmail.com