Sacred Heart & St Teresa's Church Wilmslow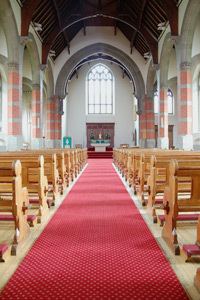 Welcome
IMPORTANT: Coronavirus (COVID-19) :
Parish Updates May 2020:
Parish Facebook Page
Please note that parish updates, as well as brief Sunday sermons from Father Anthony, can now be viewed on our Facebook page (you do not need to have an account to view the page):
Please visit https://www.facebook.com/StTeresasWilmslow/
Online Giving to the Parish now available
As you will be aware, whilst the church is closed, we have not been able to take our usual offertory collections, which has resulted in a sizeable drop in our income.
For those Parishioners who normally give in the collection at Mass and wish to help the Parish at this time, an online donation page to allow you to donate to the Parish is now available via the link below.
Please be aware that a minimum donation of £5 is requested if giving in this way, and you have the option to make a regular monthly donation or a one-off donation.
We know that for some these are worrying times financially. Please only give what you can afford.
Thank you for your support.
You can also Gift Aid your donation to help the Parish further. If you want to Gift Aid your donation, please tick the box shown on the screen even if you have previously completed a Gift Aid Declaration form in favour of the Parish for regular giving made by Offertory Envelope or Standing Order.
(All donations made by Parishioners are acknowledged by an email from InvestMyCommunity. Please also be aware that donations appear on the bank/credit card statements of the donor with the narrative "Invest My School").
Online Parish Giving Page:
https://investmycommunity.com/not-logged-donator/page/sacredheart&stteresawilmslowdioceseofshrewsbury2178
Parish Updates March 2020
Please note that following the recent state of emergency announced by the government, the church will now be closed until further notice.
We must now make full use of the opportunities of live streaming and continue being united in prayer. As suggested by the Bishop, we might also recommend that in the daily physical exercise which allows many people to leave their homes, the devotional practice that our parishioners greet the Real Presence of Christ in the Tabernacle from outside of our churches as they pass with a prayer, an act of spiritual communion or a simple sign of the Cross.
Daily Mass will continue to be celebrated privately by Father Anthony Cogliolo in church.
Masses at the Cathedral & Wythenshawe may be viewed and streamed here: http://www.dioceseofshrewsbury.org/about-us/live-masses
Masses at St Albans, Macclesfield may also be viewed here:
http://www.stalbanmacc.org.uk/stalbanslivestream.html
If you wish to set up a Standing Order either permanently or in order to continue to make your regular Offertory giving to the Parish during the period when Mass is not being celebrated in public, please contact Father Anthony via the parish telephone number (01625-523-584).
A document detailing "Prayers during a time of flu & illness" may be found below.
Please also note the Food Link at Colshaw is urgently in need of food for poor & struggling families at this time. Your food donations would be most welcome – please leave outside the presbytery door and then ring the bell.
Please telephone or email for any other queries
With All Best Wishes & Prayers,
Father Anthony Cogliolo
Parish Priest
As parish priest of Sacred Heart and Saint Teresa Wilmslow, in the Diocese of Shrewsbury, I am delighted to welcome you to our parish website.
This website provides a guide to the church, its history, and information about present day celebrations.
Whether this is your first visit, or you regularly come to this site, I hope that we are able to provide the information that you are seeking.
Feel free to browse around this site. If you have comments or questions, or simply need more information and want to contact us, click on the contact button above.
Father Anthony Cogliolo
St Teresa´s Church
Green Lane, Wilmslow, Cheshire.
SK9 1LD
01625 523 584
email: sacredwil@gmail.com